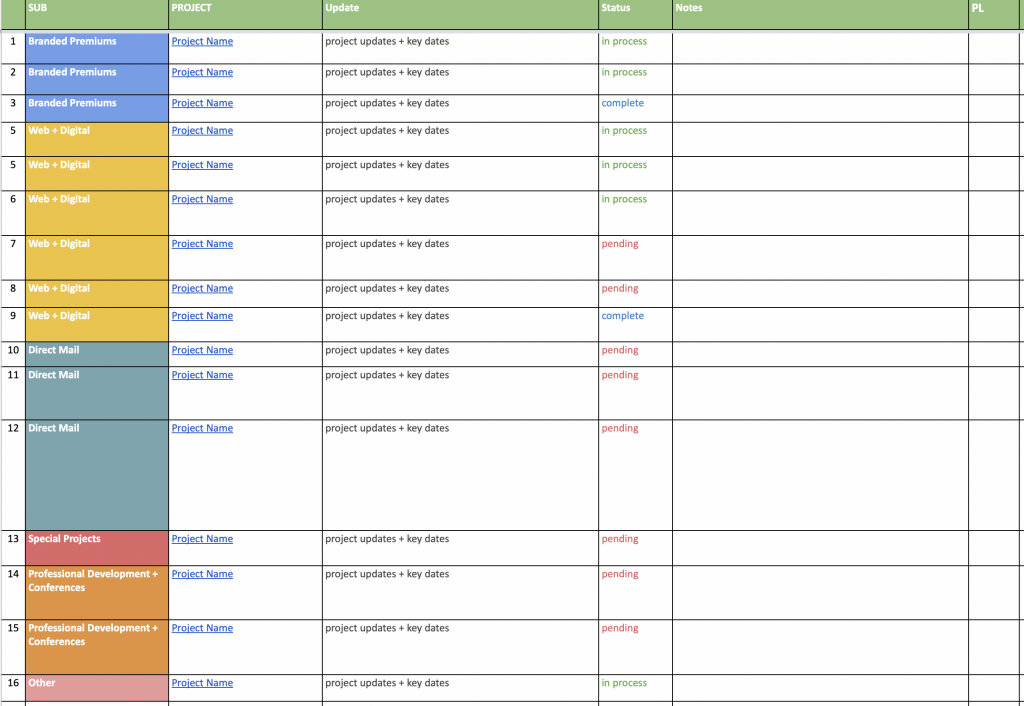 I primarily toggle between Google Sheets and Google Slides to track and share out my designs for review. I've tried a bunch of tools like Asana, Dropbox, Trello and more but they just haven't worked out for my work situation. Why? Because if you're the only one using the account, then it becomes a pain point for others because then they have to create one for themselves and bookmark the link.
Everyone at my organization has a Google account and it makes life easier. There's no need to have to remember one more login, password or url. And so, I've created a design ecosystem that works for us:
Google Drive: All the files – working and final – that can easily be shared out with links or accessed directly.
Google Sheets: the master list (see above) of everything I'm working on grouped by subject and then broken out into project, update, status, notes and then identifying project leads which is pinned in our Slack channel so everyone can refer to it. From this sheet, I have everything linked out to their respective…
Google Slides: graphics and animated images are reviewed by key stakeholders where comments can be posted and final images can be downloaded.
All communications take place in either Slack or Outlook.
So far it's been working for 2022. I may find an improved option for 2023, but for now this is the method.